If you want to visit the entire Province of Siena, you cannot miss a trip to Montepulciano, the most famous village in Siena for the art of winemaking. It is one of the largest villages with the Town Hall dating back to 1300 very similar to the Palazzo della Signoria in Florence and many other Renaissance buildings of unique beauty such as Palazzo Contucci and Palazzo Nobili-Tarugi practically entirely covered with travertine.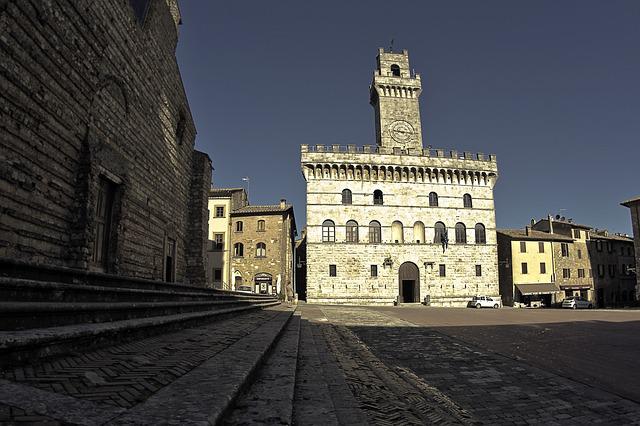 A must see is the Palazzo del Capitano del Popolo in front of which you will find the magnificent well of the griffins and lions. Inside the Cathedral, you can admire the Assumption painted by Taddeo di Bartolo and the Virgin and Child painted by Sano di Pietro.
From this point of view, if you are looking for a hotel in Siena to discover Montepulciano then we suggest you book the Hotel Minerva, our wonderful 3-star hotel in the historic center of Siena, just outside the ZTL area and five minutes from the freeway.
Equipped with a bar, a lift and a private garage for a fee, closed, with direct access to the hotel and 20 places available, the Minerva Hotel includes within its premises 56 air-conditioned rooms, all different, with wifi connection and which they are divided into easy-economy, elegant-standard, superior room and junior-suite, each with its own characteristics.
The Easy rooms, with double bed or two single beds on request, are located inside, do not overlook the historic center and are large starting from 16 m².
The Elegant Standard rooms, with modern furnishings and pastel tones of the walls, all have a view over the historic center of Siena and are large starting from 19 m². They are divided into single and double, and can accommodate up to a maximum of 4 people.
The Superior Rooms all have a view of the Basilica of San Francesco, the Basilica of Provenzano, and the Porta Ovile and have an area starting from the size of 19 m². The Junior Double Suites have a view over the historic center of Siena, have an area starting from 19 m² and are equipped with a small terrace. Furthermore, these rooms are all equipped with a double bed and, on request, with two separate beds. You will therefore be able to select from numerous solutions, all equipped with wifi for your stay for fun or business.
Inside, the Hotel Minerva also systematically exhibits a real contemporary art gallery featuring works by painters from Siena.
Our hotel is also ideal for parents with children; in fact, we even have cots available, as well as bottle warmers, sterilizers and a playroom inside.
The Minerva hotel also offers a unique location for business meetings as it is equipped with wireless connection and a conference room overlooking the historic center of Siena, which has the right to include up to 40 guests and which provides LED TV, video projector, blackboard, bright and all the most important features.
As for breakfast, our hotel offers an appetizing, Italian, international breakfast with natural and selected jams. Hotel Minerva reserves for its guests a large guarded garage for cars, motorcycles and bicycles. The garage is located just outside the restricted traffic area and is a paid service.
The Hotel is located in Siena in Via Garibaldi, 72, a 2-minute drive from the train station and a 7-minute walk To book our hotel in Siena center with parking to discover Montepulciano, click Book at the top right or call +39 0577.284474 or send an email to info@albergominerva.it.