Would you like to spend your mini-vacation in Siena and are you looking for a hotel with a garden to enjoy some greenery? So, we suggest you make a reservation at the Hotel Minerva, our 3-star hotel in the center of Siena, just a few minutes from Piazza del Campo, just outside the restricted traffic area and with a private internal garden with a view. overview of Siena.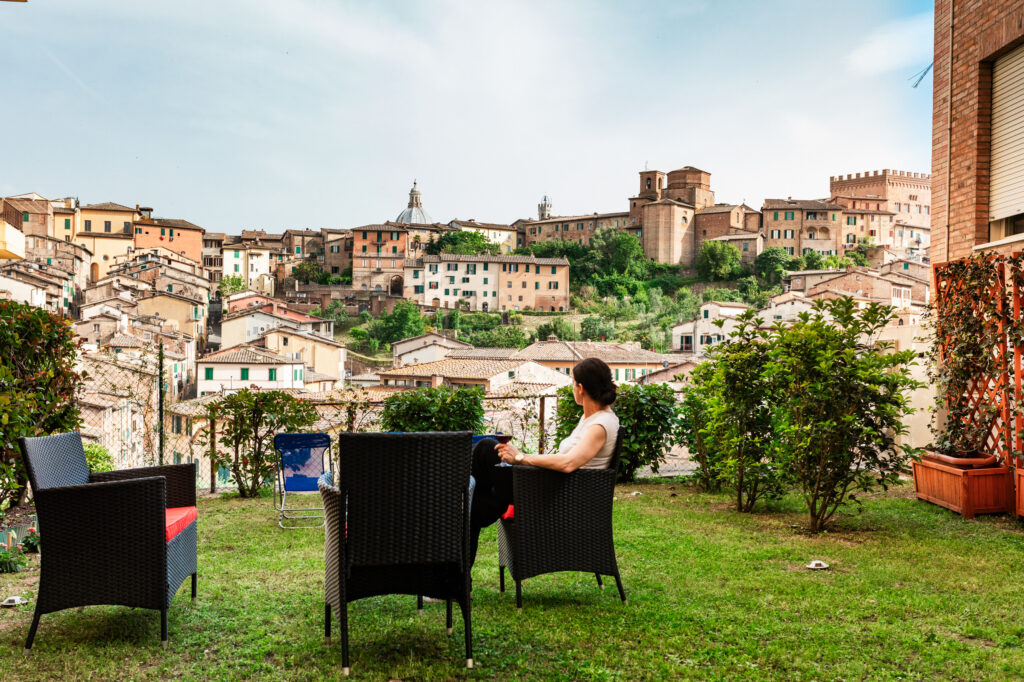 With a bar, a lift and a paid, covered car park with direct access to the hotel and 20 spaces available, the Minerva Hotel contains 56 air-conditioned rooms, all different, with wifi and which are divided into easy -economy, elegant-standard, superior room and junior-suite, each with its own characteristics.
The Easy rooms, with double bed or two single beds on request, are located on the inside, do not overlook the historic center and are large starting from the size of 16 m².
The Elegant Standard rooms, with modern furnishings and pastel shades of the walls, all have a view of the historic center of Siena and are large starting from 19 m².
They are divided into single and double, and are able to accommodate up to a total of four people. The Superior Rooms all have a view of the Basilica of San Francesco, the Basilica of Provenzano, and the Porta Ovile and are large starting from the size of 19 m².
The Junior Double Suites have a view over the historic center of Siena, have a surface area starting from 19 m² and are equipped with a small terrace. These rooms, then, are all equipped with a double bed and on request with two separate beds.
You can therefore choose from many solutions, all equipped with wifi for your stay for fun or for work. Our hotel in Siena with garden is a hotel that favors tranquility and is the perfect solution for those coming on a family holiday.
The Minerva hotel also has an excellent setting for business meetings as it is equipped with wireless connection and a meeting room overlooking the historic center of the city, which can accommodate up to 40 guests and offers LED TV, video projector, overhead projector and all the most important features.
From the breakfast point of view, our hotel with green space offers an exquisite, Italian, international breakfast with genuine and quality jams.
The Minerva hotel is located in Siena in Via Garibaldi, 72, a 2-minute drive from the station and a 7-minute walk To make a reservation at our hotel in Siena with an internal green space, click Book at the top right or call the telephone number +39 0577.284474 or send an email to info@albergominerva.it.