Siena, famous for its rich artistic and cultural heritage, continues to delight visitors with its fascinating works of art and historical architecture. Among the numerous artistic gems of the city, the Basilica of San Domenico stands out as one of the most captivating examples of Cistercian Gothic art. In addition to being a place of significant religious importance, the basilica houses a collection of extraordinary works of art that captivate art enthusiasts and history-curious tourists.
Among the works that enrich the basilica, the lesser-known altarpiece but of notable artistic relevance is a Sacred Conversation, painted by Benvenuto di Giovanni. Located in the left transept of the church, within a chapel that once belonged to the Borghesi family, this magnificent work tells a story of remarkable depth and beauty.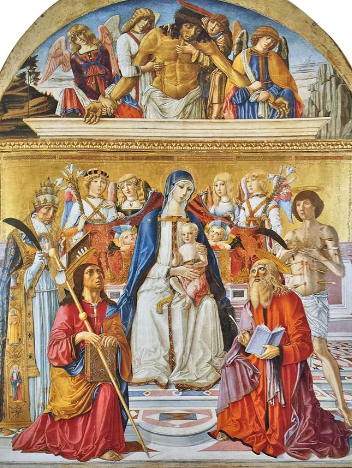 Benvenuto di Giovanni, a talented Sienese painter, was born in 1436 and spent his formative years under the renowned Vecchietta, learning the intricate details of art and developing a distinctive and refined style. His works, including the Adoration of the Magi now in Washington and the altarpiece of San Fortunato in Vescovado di Murlo, bear witness to his technical mastery and artistic taste, highlighting Ferrarese and Paduan influences of the 15th century.
Commissioned by the Borghesi family for the family chapel within the basilica, Benvenuto di Giovanni's Sacred Conversation dates back to the late 1470s, representing a culmination in his artistic career. The work depicts the Madonna on a throne with the Child and various Saints, surrounded by a lunette showing the Savior in Pieta, supported by moved angels.
The attention to anatomical detail and the enchanting rendering of the garments give the work an elegance that recalls the Nordic and Flemish styles of the time. The sumptuousness of the clothing and the impeccable rendering of the faces, together with intricate details and refined execution, highlight Benvenuto di Giovanni's skill in integrating diverse influences, thus creating a work that stands out as a precious gem in the Sienese artistic landscape of the Renaissance.
This Sacred Conversation remains a precious testament to the mastery and depth of Sienese art in the 15th century, emphasizing the importance of deepening the understanding of the various nuances and artistic influences that have helped shape the city's artistic landscape.
In this regard, if you are looking for a hotel in downtown Siena with parking, to visit the Basilica of San Domenico, choose the Minerva hotel.