In the heart of Tuscany, amidst the gentle rolling hills that extend as far as the eye can see, lies Siena, a city whose history is rooted in a past as glorious as it is complex. Medieval Siena, shrouded in an aura of mysticism and fervent cultural activity, stands as a tangible emblem of an era when Europe was beginning to shake off the dark centuries of the Middle Ages, embracing with fervor an unprecedented artistic and intellectual rebirth.
Over the course of these centuries, Siena, with its strategic position along the Via Francigena, became a crucial crossroads for trade and cultural exchange, attracting merchants, artists, and thinkers from every corner of the continent. The bustling activity of its workshops and the elegance of its noble families contributed to shaping the city's social fabric, while religious fervor translated into fervent devotion to the patron saints who still silently watch over the city's destiny.
It is precisely in this layered and fascinating context that a tangible monument of Siena's architectural and cultural transformation stands: the ancient Palace of the Magistracy of Merchandise. Its gentle and graceful Gothic-Renaissance forms, nestled between the alleys of San Pietro and San Paolo, constitute an indelible imprint of the transition between the Middle Ages and the Renaissance era, channeling the wisdom and mastery of its architects in transforming the ancient church of San Paolo and the Palace of Pepe Melianda into a symbol of power and pride for the city.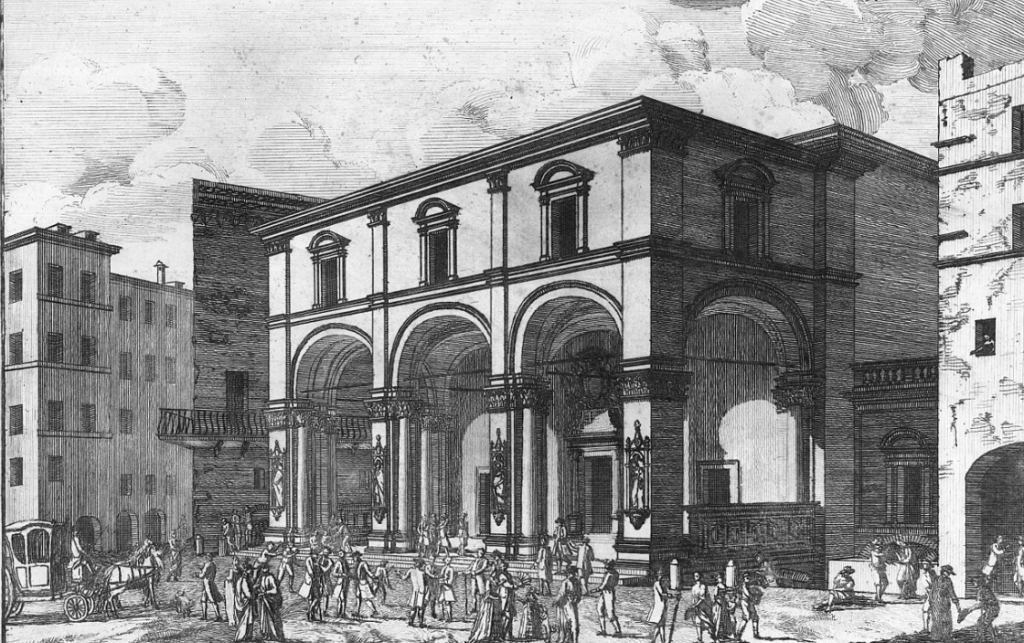 The work, conceived in the 15th century by Sano di Matteo and Pietro del Minella, embodies the elegance and grandeur typical of Sienese 15th-century style, bearing witness with its architectural grandeur to the cultural and artistic evolution that was transforming the face of the city. Its imposing arches, the statues of the patron saints of Siena, and the frescoes that adorn its vaults represent a tangible tribute to the artistic inspiration and ingenuity that have permeated the soul of Siena over the centuries.
Furthermore, the unwavering determination to preserve its cultural heritage is manifested in the restoration and restructuring work carried out by the architect Ferdinando Fuga in the 18th century, shaping the ancient palace into the magnificent forms we admire today. This historic monument, also known as the Loggia di San Paolo, Loggia della Mercanzia, or Loggia dei Nobili, stands as a beacon of beauty and erudition, continuing to illuminate Siena's path over the centuries.
From this viewpoint, if you want to explore the Loggia della Mercanzia and all of Siena, start from the Minerva Hotel in the center of Siena.